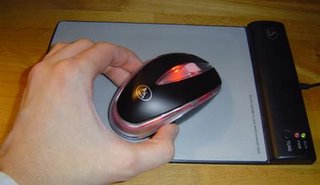 I have had my share of trouble with mice. Wired mice, wireless mice. But the latest trouble was my logitech wireless mouse. I always forget to put it on the cradle, so battery is always low and I get frustrated when I sit down to work.
But while surfing today for gadgets, toy and gizmos, I found this mouse! Viola, no more battery problems. I have not tested it but I think I will. Only trouble I fore see is that I or my mouse have to live tied to the mouse pad! That is another story. Only pad I liked was / is a old (more than 10 years now!) SUN optical mouse pad. Which was an aluminum and has a blue grid to support the old sun mouse glide!
So without much further grumbling here is the review. Happy mousing.